When I started World Vasectomy Day, my best friend told me, "Jonathan, when creating a movement, complexity can work against you". 
I didn't listen. 
In tribute to our commitment to complexity, this year we are once again organizing a 24-hour Zoom-athon that unites men and women, family planning (FP) organizations and advocates, ministries of health workers and doctors from dozens of countries around the world in an open conversation about many topics that align with choosing a vasectomy out of love for self, family, and our future.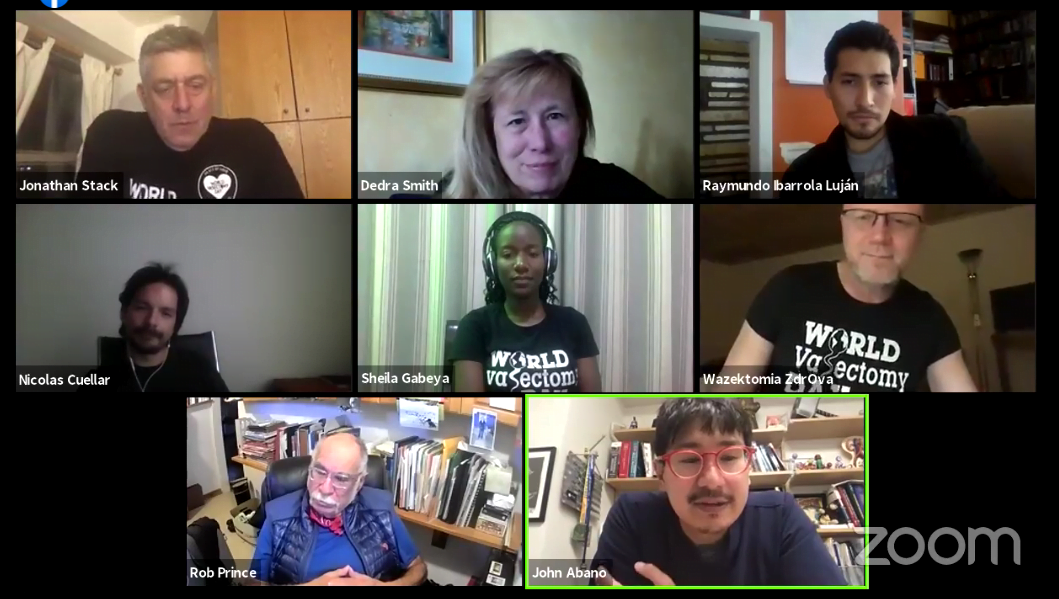 As always, the main event is on a Friday in honor of men who might be choosing this day to become protectors rather than procreators. To include hosts and audiences from many time zones, we launch on Thursday afternoon at 5:00 PM EST and continue through 5:00 PM EST the next day. This year, the dates of the event will be  November 18-19. A Zoom link to access the event will be provided in the coming weeks.  Join us as we invite different organizations and institutions to co-host each hour. These co-hosts will bring insights and news from different corners of the globe, and touch on a variety of interesting topics. For example, we're co-hosting one hour with the Male Contraceptive Initiative to talk about the Future of Male Contraception and another with Alas in Guatemala to explore how COVID-19 has actually led to an increase in vasectomy acceptance. 
We know that sometimes we push beyond the comfort zone of much of the FP world. Heck, we push beyond our own comfort zone as well.  In that spirit, we take on tough issues such as the ethical choices when considering replacement of income or travel expenses for men seeking vasectomy in under-resourced countries, or the impact of human population on the planet. We discuss the ethical challenges inherent to doing male sterilization, and whether  a vasectomy movement can lower rates of breast cancer.  Maybe this year, we'll cover all of these topics within our 24 hour-event. Personally, I'd like to explore a more proactive role for men in the struggle to uphold women's right to choose.
Does everyone agree with everything we do? I doubt it, but I strongly believe that WVD  provides a platform for intelligent, kind and compassionate debate on controversial issues – even if it ruffles a few feathers along the way.  The way I explain it, we don't judge the reasons a man, without or without a partner, chooses to get a vasectomy, we just want to do our best to assure that they have both the information needed to make an informed decision as well as access to a safe and successful procedure.
NOTE:  If you or your organization would like to consider hosting an hour during our Global Celebration, let us know! by emailing  info@wvd.org. Here's what it involves: description of the 24 hour event.